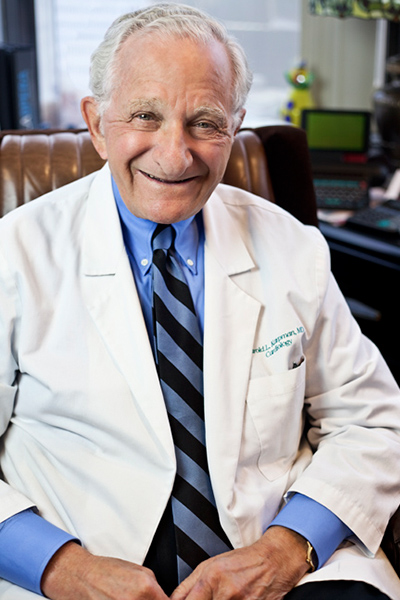 Clinical Professor of Medicine, David Geffen School of Medicine UCLA. Clinical Cardiology.
Fellow of the American College of Cardiology
Fellow of the American College of Physicians
Specialty
Clinical cardiology
Credentials
● Education: University of California Medical School, San Francisco
● Residency: Los Angeles County General Hospital; Beth Israel Hospital at Harvard Medical School
● Board Certification: Diplomat, American Board of Internal Medicine; Cardiovascular Board
Prior to CVMG
He has served as Chairman of the Board of Western Cardiovascular Network, and continues to serve on the Board of Governors of Cedars-Sinai Medical Center and founded Cardio-Dynamics Laboratories, Inc., the creators of the world's first Holter 24-hour cardiac recording monitors.
Awards & Recognitions
In 2008, Dr. Karpman received the Pioneer in Medicine Award.
Other Professional Accomplishments
Dr. Karpman founded The Cardiovascular Research Foundation of Southern California, a nonprofit public entity dedicated to community funded cardiovascular research. He has held leadership positions including serving on numerous committees including the Board of Governors, and helped found the Peripheral Vascular service at Cedars of Lebanon and at Cedars-Sinai.
Teaching & Publishing
He is the author of several books, including "Your Second Life" and "Preventing Silent Heart Disease", two books for lay people on heart disease and over 100 peer reviewed papers and presentations. He is an authority on the economics of health care delivery and managed care, and is a known master of all aspects of clinical and consultative cardiology. Dr. Karpman's curriculum vita lists over 150 articles, 14 books with nine as first author and several with widespread international readership including "Preventing Silent Heart Disease."
The Person Behind Your Doctor
Hobbies: Board of Directors of the Los Angeles Opera
Favorites:
Movie: Classical movies; Woody Allen movies
Music: Opera and Classical music
Sport: Tennis
Food: Deli and Italian