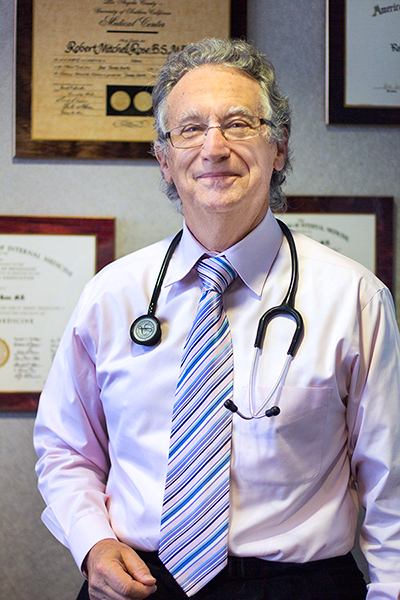 Associate Clinical Professor of Medicine, David Geffen School of Medicine UCLA. Clinical and Interventional Cardiology.
Fellow of the American College of Cardiology
Specialty
Dr. Rose is a recognized expert in general clinical, consultative and interventional cardiology. He is currently the Director of Cardiovascular Services and a member of the Board of Directors at the Brotman Medical Center. Dr. Rose is currently engaged in private practice in Beverly Hills and Culver City.
Credentials
● Education: Wayne State University School of Medicine in Detroit, Michigan
● Residency: Los Angeles County – USC Medical Center; Cedars-Sinai Medical Center; West Los Angeles (Wadsworth) Veterans Administration Hospital
● Fellowship: UCLA, West Los Angeles; Veterans Administration Hospitals and NIH Training Program, Los Angeles, CA. – Cardiovascular Diseases
● Board Certification: American Board of Internal Medicine and American Board of Cardiovascular Diseases
Prior to CVMG
Dr. Rose has worked in internal medicine and cardiovascular diseases at the West Los Angeles (Wadsworth) Veterans Administration Hospital, completed a fellowship in cardiovascular diseases at the Wadsworth Veterans Administration Hospital, UCLA Medical Center/National Institutes of Health Training Program and Harbor General Hospital. He then served as Major in the United States Army Medical Corps as a cardiologist for the U.S. Army Medical Center Hospital in Okinawa, Japan. Dr. Rose also did special traineeships at St. Bartholomew's Hospital and Medical School in London, England and the Mayo Clinic in Rochester, Minnesota.
Prior to joining the Cardiovascular Medical Group of Southern California, Dr. Rose served as Chief of Staff at Brotman Medical Center and has been the director of cardiac rehabilitation and critical care. Dr. Rose also directed the coronary care unit and trained cardiovascular fellows in the cardiac catheterization laboratory of the West Los Angeles Veterans' Administration Hospital.
Awards & Recognitions
Dr. Rose has received the Certificate of Service from the Department of Medicine, University of California, Los Angeles for 25 years of medical teaching at the West LA VA Hospital and UCLA Hospitals. In addition, he has received Physician of the Year from the Brotman Medical Center, 2009, The Inaugural Award.
Teaching & Publishing
Dr. Rose taught Cardiovascular Disease and Cardiac Catheterization at the West Los Angeles VA Hospital from 1974 through 2004.
The Person Behind Your Doctor
Hobbies: Dr. Rose has developed questionably healthy interest in golf lately. In addition, he enjoys traveling, Shakespeare, reading long books, running, and shooting hoops with his grandsons.
Family: He is married to the beautiful Cynthia. They have four children, five grandchildren and two Australian Shepherds.
Dr. Rose plans to practice Medicine and Cardiology for a long time.